When this movie first came out I had no real desire to see it, so I didn't. But God works in mysterious ways. Last night, my 4-year-old was on her iPad watching YouTube videos (of course) and she was watching one about these little girls doing hair and make-up like the three Mrs. from the movie A Wrinkle in Time. I'd forgotten all about it, but I knew it was on Netflix, so I decided to put it on (plus I figured it would get Charlotte to put her iPad down and snuggle up to me, which I wasn't wrong). To give you a little background of why this movie spoke volumes to me and made me cry at least five separate times, I've been having struggles, particularly related to work but also other things. Change can be hard for me to handle, especially when something I like is being taken away or replaced with something I don't really like, which is what is slowly happening. I am also being put out in front of people and facing rejection from those people, which is also a major struggle of mine thanks to my people-pleasing curse.
Jesus looked at them and said, "With man this is impossible, but with God all things are possible."

Matthew 19:26
I'm trying real hard to keep this verse in mind and build my confidence and boldness. I'm pretty sure God used this kid's movie last night to help do this! I recommend this one to any woman, teen, or kid out there struggling with loving themselves and putting themselves out there to see what they are actually capable of.
Meg Murray is a young girl who goes through internal trials like many of us do. After her father disappeared she felt rejected, unwanted, not good enough and those things caused her to isolate herself, pull away, avoid making friends, doubt herself, talk negatively about herself, and not try new things because of her fear of failure and rejection. I know I am a 31-year-old woman and she is about 12, but I saw myself in her so much! She is a super relatable character and if you have young children, they may relate to her too and it could be a great movie for you to watch together. Christ's Word is everywhere in this film!
After we get a good sense of who Meg and her little adopted brother, Charles Wallace, are we are quickly plunged into a melding of the real world and fantasy. The three Mrs. (Mrs. Whatsit, Mrs. Who, and Mrs. Which) convince these children to go on an awesome adventure to find their dad through the fabrics of space. Of course, Meg is hesitant at first, not sure if she is capable of doing these great things, but her love for her dad wins out in the end and she joins them on the quest.
We're warriors who serve the good and light and the universe."

Mrs. Whatsit (A Wrinkle in Time 2018)
Throughout the quest, we see Meg doubting herself along the way. The Mrs. encourage her to keep trying and to be who she is, which in itself was really inspiring to me. The things these fantasy characters tell Meg are things all our little Warrior Princesses should hear from their own parents and people who love them (And things we should tell ourselves!)
You just have to find the right frequency and have faith in who you are."

Mrs. Which (A Wrinkle in Time 2018)
It's clear that the Mrs. are meant to show Meg and her brother the way of the light, which I translated into the Lord's way and God's Word. So many of their saysings mirrored what Jesus told the world while he walked the earth and what we read today in the Bible; messages of hope, love, caring for others, loving yourself, and unlocking your potential. And it was undeniable how similar the "It" was to the devil; how it got inside Charles Wallace's head and spoke such death over his sister, everything she feared about herself, all the hurts she had buried deep inside.
Do you realize how many events, choices, that had to occur since the birth of the universe leading up to the making of you? Just exactly the way you are."

Mrs. Which (A Wrinkle in Time, 2018)
That quote above was one of the ones that made me stop and really think about what was being said. And it's so true! It's almost overwhelming to think about it, but the Bible says that our days were planned before the first light of day ever hit earth, before anything was ever created.
For you created my inmost being; you knit me together in my mother's womb. I praise you because I am fearfully and wonderfully made; your works are wonderful, I know that full well. My frame was not hidden from you when I was made in the secret place, when I was woven together in the depths of the earth. Your eyes saw my unformed body; all the days ordained for me were written in your book before one of them came to be."

Psalm 139: 13-16 (NIV)
When I thought about this it made me sad, sad that I have let the world corrupt the me God made me to be from the beginning, allowing all the world's fears and doubts into my heart. I know I'm not alone in this. We all have our faults and issues. But when I stopped and thought about every moment from the beginning of time that happened just the way it happened to bring me to this very moment and it was planned that way by our God, it is too amazing for words.
I love that the movie's motto is "Be a Warrior". I feel like that has been my calling to voice that very message to women all over. God calls us to be warriors as well as His princesses. We are called to fight the enemy's voice inside us and his schemes in the world. The devil gets inside of us, speaks our greatest fears into us, makes us doubt ourselves, our faith, what we're doing, who we are meant to be, everything. He's mission is to steal, kill, and destroy and that applies not only to our relationships with others, which are always under attack, but also to how we view ourselves.
You see this is what the 'it' does. One person at a time, until fear takes over. Fear turns to rage. Rage leads to violence. And then there's a tipping point. If we do not act soon, darkness will fall across the universe. We, we're in search of warriors who can fight the "it"! Who can bring hope back? Your father. Be a warrior. Can you?"

Mrs. Which (A Wrinkle in time, 2018)
Stay alert! Watch out for your great enemy, the devil. He prowls around like a roaring lion, looking for someone to devour. Stand firm against him, and be strong in your faith. Remember that your family of believers all over the world is going through the same kind of suffering you are."

1 Peter 5: 8-9 (NLT)
That scene where the darkness is explained through visions in the cave to Meg and how it effects everyone on earth, even the girl that is mean to her at school, is so powerful and is completely true of our enemy today. He really does want to disconnect us from our fellow men and women, and he does want to destroy all hope we have in our God and in ourselves. How many of us would rather hide than talk to someone new because we're afraid they won't like us, they might think we're weird, or they might reject us? How many of us start a job, project, or task only to quit before we ever really try because we worry we're not good enough or capable? How many of us isolate ourselves instead of putting ourselves out there? All of us to some degree! But it's not who we're called to be by God.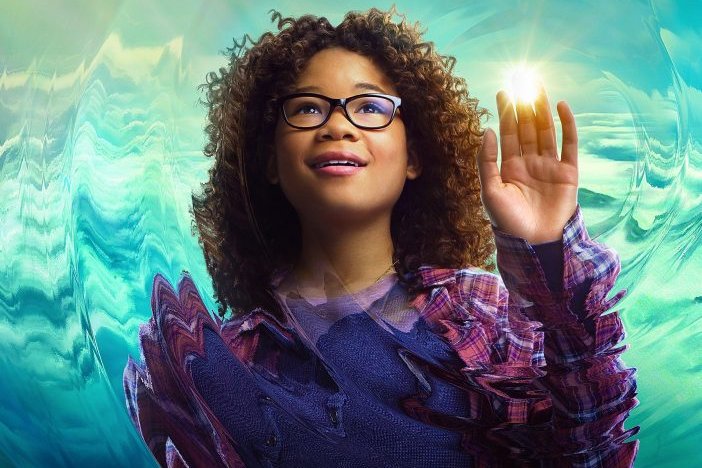 We are stronger than we think through Christ. We can unlock our true potential through Him. We can banish the fears the enemy has placed inside of us if we turn to Him and ask for help. I urge you to watch this awesome movie with your little ones and notice the parallels that I am sure were most intentional.
I hope you found some encouragement for your day here. We love to hear what you think, your stories and your testimonies! Thanks, ladies.