How terrible it would be if a newborn baby said to its father, 'Why was I born?' or if it said to its mother, 'Why did you make me this way?'"

Isaiah 45:10 (NLT)
When I read this verse, it really hit home for me. I have a 4-year-old daughter and when I read this, I pictured her asking me those questions and it tore at my heart. But, we ask God these questions all the time. "Why, God, did you make me this heavy-set? Why, God, did you give me such bad acne? Why, God, did I have to have frizzy hair?" No matter what it is, we all have issues with our bodies and self. It's one of the biggest issues women face today. For the longest time, I had a huge laundry list of things I wanted to change about myself. Ironically, as ugly as I was on the inside, none of those things included character changes. I wanted longer hair, red hair, blue hair, purple hair, black hair, a smaller nose, freckles, no acne, bigger boobs, a smaller waist, no cellulite on my thighs and butt, slimmer more muscular legs without the hard work of working out. This led to me dying my hair, straightening my curls, ultimately ruining what God had given me. I obsessed over finding just the right look with make-up, piling it on so I barely looked like the me God made me to be. Now, I'm not saying we can never do anything to our hair and we can never wear make-up. God allowed these things to be created as well for a reason, but we cannot change ourselves out of disgust in ourselves. It's so detrimental to our well-being.
If you want to dye your hair, power to you! Do it because it's an expression of something beautiful inside you, not to hide who you truly are. Same goes for make-up. Rock it, girl, but do it because it's fun to play around with, not because you feel you cannot leave the house without it.
For we are God's handiwork, created in Christ Jesus to do good works, which God prepared in advance for us to do."

Ephesians 2:10
I know it might not always feel like it to us, but God created us just as we are for a reason. We may never know what that reason is, or it might be revealed to us in time. But we have to trust that God knew what he was doing when he made us the shape, color, and way he did. Maybe there are struggles to get through that will ultimately make you stronger in the end because of something you don't yet appreciate about yourself. Maybe there's a lesson to be learned in how you treat your body and self. God has a plan.
The Lord does not look at the things people look at. People look at the outward appearance, but the Lord looks at the heart."

1 Samuel 16:7
Should we be so concerned with our outward appearances when it's what's on the inside that counts? I know, tell that to someone who is being bullied at school because of the way she looks, right? But if we stand firm in God and our faith, those comments others make become less and less important in our lives and make less of an impact on our character. That's just the way God designed it!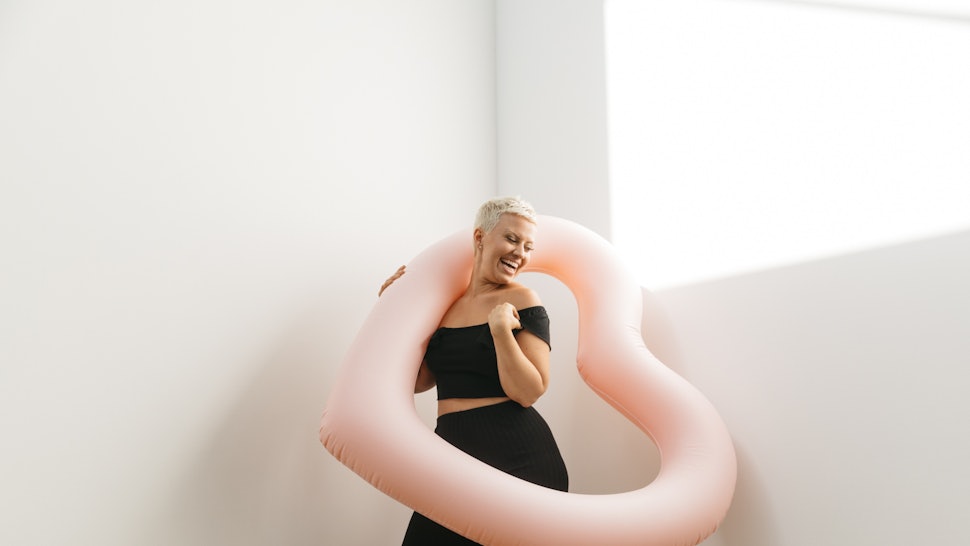 You are altogether beautiful, my darling; there is no flaw in you."

Song of Songs 4:7
So, how do you learn to accept yourself when there are things you're not happy with about yourself? What I've found useful is gratitude for all the wonderful ways God has made me that I do already appreciate. Thank you, God, for giving me legs that work so I can get around easily and work out if I so choose. In fact, going for a walk would be a great way to show God how much I appreciate His gift of working legs to me and also a great way to care for my body, the temple in which the Holy Spirit resides. Thank you, God, for giving me the hair you did, even when it's difficult to manage. It's just one more way you've fearfully and wonderfully made me unique.
Every good and perfect gift is from above, coming down from the Father of the heavenly lights, who does not change like shifting shadows."

James 1:17
Something I've recently gotten in the habit of doing is thanking God through my struggles. This is a great way to turn your view around about yourself when you're struggling with your weight, as so many women do these days. (They just keep making food yummier and yummier in my opinion!) Ask God for the motivation to stick to the smaller portions you've set for yourself. Setting limits and boundaries on ourselves is a good thing, and biblical. The Lord gives us certain gifts and aspects, and not others because we are not meant to do it all with ease. It's through struggles and hard work that we grow and change into being who are more Christlike. Thank God for each half of a pound you lose or gain, depending on your goal. That's a win! Slow and steady wins the race.
Love is patient, love is kind. It does not envy, it does not boast, it is not proud. It does not dishonor others, it is not self-seeking, it is not easily angered, it keeps no record of wrongs. Love does not delight in evil but rejoices with the truth. It always protects, always trusts, always hopes, always perseveres.
Love never fails."

1 Corinthians 13:4-8
Whenever I read this verse I always used it as a guideline to love others right, but it can also be applied to how we love ourselves. Be patient with yourself if you are going through a time of self-loathing, self-doubt, fear, and just plain don't like the way you look or act. Change takes time. God does not deliver us from our problems all at once all the time because then we would never grow. Be kind to yourself. Stop the negative self-talk. I used to hear that a lot and think, "easier said than done", but really you just have to commit to it. Picture the devil himself leaning over your shoulder, whispering those terrible things you tell yourself about yourself, and you'll find the strength real quick to say "shut up, devil! That's not true! God loves me just the way I am!" Unless it's a health related issue that puts you at risk, like diabetes because of your weight, then my advice is make a conscious effort to learn to love it. Love is a choice, and that goes for ourselves as well. If it puts you at a health risk, take action and go see your doctor about it for support and advice.
Indeed, the very hairs of your head are all numbered. Don't be afraid; you are worth more than many sparrows."

Luke 12:7
Once you start to really believe in God's Word and all it says, no doubts or fears that it might not apply to you, you will start to see a turn in loving yourself as well. It's all part of claiming who we are in Christ. He numbered the hairs on your head and made every single molecule inside you and out just the way he did.
God saw all that he had made, and it was very good."

Genesis 1:31
That includes you! God doesn't make mistakes. And as the song goes, He didn't start with you. He loves you just as you are issues and all, and he has plans to get you over, through, and past whatever it is you are dealing with right now in regards to yourself. It's His promise for those who love Him. Trust in God today. Trust that He knew what He was doing when He made you. Slowly, the way you look at yourself will start to change.